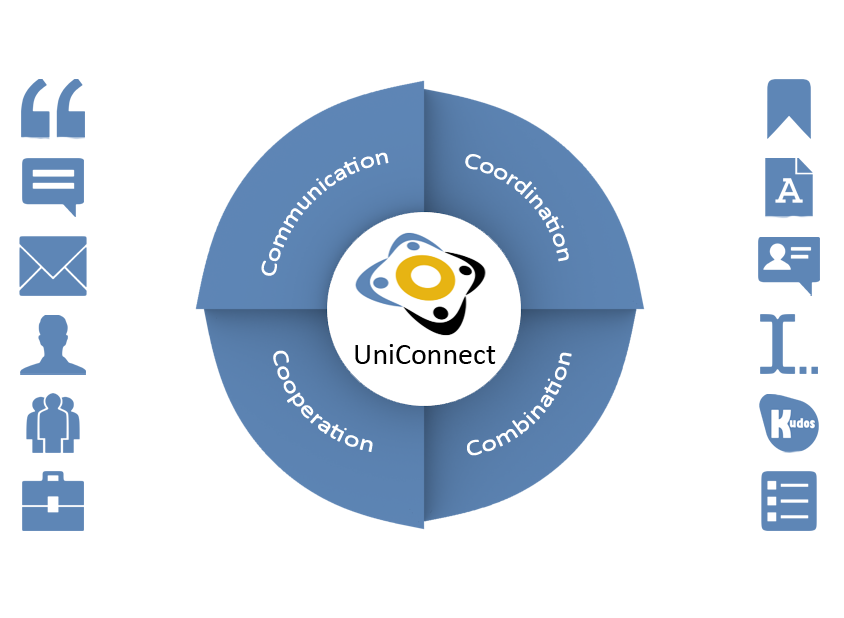 1
Blogs
Blogs are a chronologically sorted collection of long, potentially more complex textual information in the manner of online journals and can be used to share information with other researchers and/ or students.
2
Forums
A forum serves as communication tool to structure discussions on specific topics (e.g. to answer a question) and enables the exchange of textual messages asynchronously between multiple participants.
3
Notifications
Notifications make information and experts immediately visible, making it easy to share conversations that would have otherwise been hidden e.g. in conventional email. Notifications aim at faster and more informed decision-making.
4
Profiles
Each UniConnect user has a social profile, which consists of demographic and/or biographic information about the person. With these profiles a network of researchers can be establish on UniConnect and people can find and connect with each other.
5
Communities
A community (a virtual workspace) is providing a central collaboration point for a research team, with tools to manage membership, gather and share information and organize their work.
6
Activities
The Activities-widget is used to organize project work such as sharing information and resources, assigning and tracking to do items and organizing meetings.
7
Bookmarks
Bookmarks are used to collect, organize, and share links to web pages of interest to you.
8
Docs
Docs are used to create and work synchronously or asynchronously with multiple other users on texts, tables or presentations.
9
Micro-blogs
Microblogs are chronologically sorted textual messages with a particularly short length and low complexity. They are used to quickly share news.
10
Wikis
A wiki is a centralized collection of information that research team members can view and update.
11
Kudos Suite for IBM Connections
Kudos Suite is a third party software product that is provided by ISW, a Tasmanian HCL Business Partner. The application contains gamification widgets for HCL Connections. The UCT is happy to have ISW's permission and support for adding the full "Kudos Suite" to UniConnect. Now users can see their achievements in the form of digital badges on their profiles for using UniConnect or they can use the "Activities" as a Kanban board.
12
Polls and Surveys
This tool is used to quickly and easily gather feedback from students or researchers in your community.
13
Communication
Communication in a research team is the very essence of the group's success. But team members are not always in the same place at the same time. Therefore you need modern online tools to realize an efficient communication exchange. On UniConnect a multitude of such tools are fully integrated.
14
Cooperation
If community members cooperate then synergies (especially from multidisciplinary teams) can be generated. By using UniConnect several tools are provided to give a team the opportunity to work together, even though they are divided by time-zone or location.
15
Coordination
To coordinate a group of researchers means to define courses of action, assign tasks and to set due dates. Task management on UniConnect gives an overview about what is to be done next and about the current status of the respective project.
16
Combination
If only research teams know what they know. The combination of content on UniConnect brings together different kinds of data to illustrate the given inherent knowledge within a community or rather to combine these valuable resources, which can form new knowledge.